Don't Cry Mary
Only Mary knows the pain of losing a Son who preached across the land, welcomed sinners and healed the sick. 
But in the end…He shed his blood to save us all. 
So don't cry, Mary. Your Son died for the greater good. 
Crandall Creek's Jerry Andrews says he wrote the song after listening to a sermon about what Mary might have been thinking as she watched from the foot of the cross as her Son was being crucified. 
"I wrote half of it in my head in church," Jerry says, "and when I came home, I sat down and 15 minutes later it was finished." 
That was several years ago. 
"It's always been a song my wife, Sharon, has loved." 
The right time to record the song arrived this year. 
"We've been waiting for the singer who could relay what I felt as I wrote the song," Jerry says. "Abby Latocha brings that emotion to the surface the way I always wanted to hear it sung."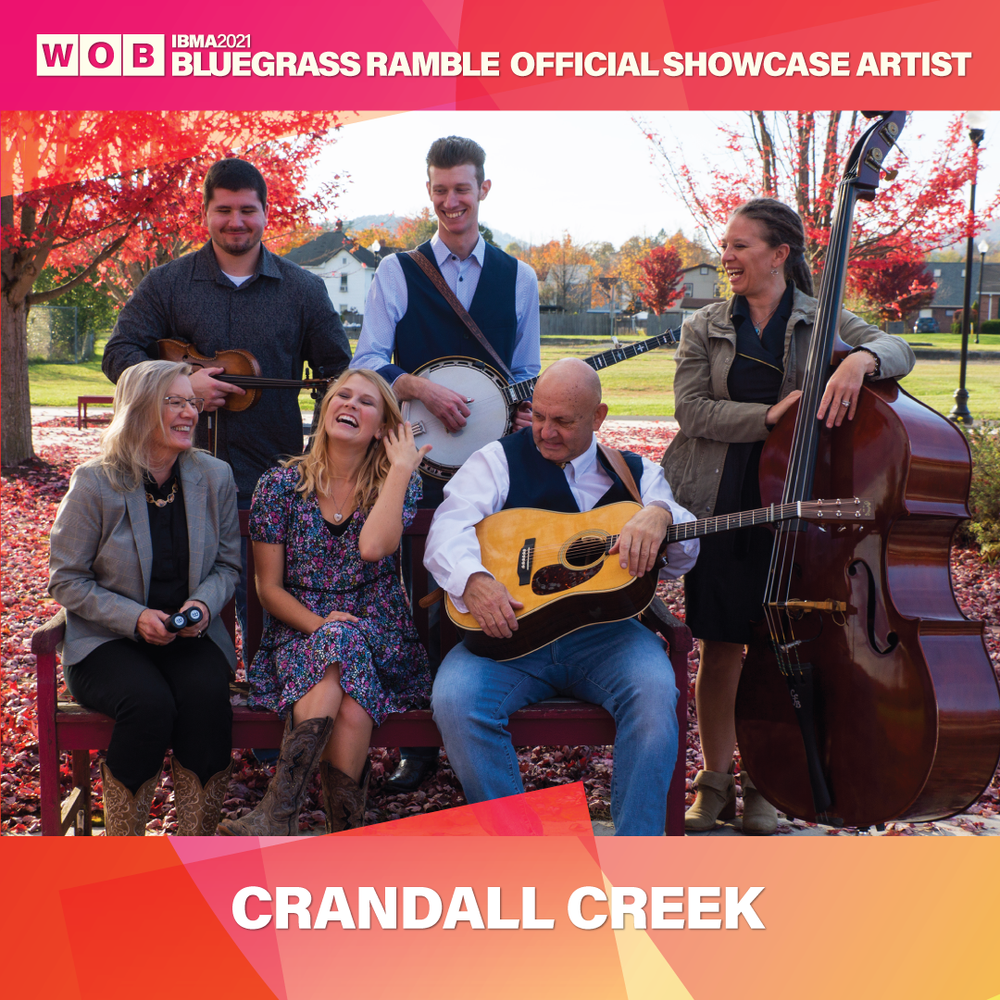 We are on the road to Raleigh! We can't wait to perform as Official Showcase Artists for the IBMA Bluegrass Ramble! Join us at IBMA World of Bluegrass, Sept 28 - Oct 2, in Raleigh, NC! #IBMAWOB2021
GET TICKETS - http://bit.ly/IBMAWOBTICKETS
A song for Father's Day 
A couple of songwriters and a bluegrass band got together to create a special song for special fathers on their special day. 
Dad Down On His Knees is a collaboration of songwriters Mark "Brink" Brinkman and Mark BonDurant, and the Crandall Creek bluegrass band. The single from Crandall Creek's upcoming album, Handprints on the Glass, is being released for Father's Day. 
The song came about when Mark BonDurant met Brink Brinkman at IBMA a couple of years ago. Mark says he was "thrilled when I had the chance to play a couple of my songs for him and you can imagine my excitement when he suggested we could perhaps do a writing session." 
A couple of months later the two were sitting at Brink's table, tossing around ideas for songs. They honed in on one idea. 
"The concept was that for many important times of our lives, our Dad was on his knees – when he proposed to Mom, played with us as kids, and prayed each night for us," Mark says. "We talked about how our fathers had meant so much to us and we wanted to be sure to capture that love in the song. 
"When we wrote the line 'no one ever stood so tall as Dad down on his knees' we knew we were on to something." 
Brink and Mark shared Dad Down On His Knees with friend and fellow songwriter Jerry Andrews of Crandall Creek. 
"While we write all of our own music, this song had such a strong and clear message it's one we wanted to cut." Jerry says. "We are honored these two great songwriters put it in our hands." 
Brink and Mark say they are honored that Crandall Creek selected the song. 
"We hope we have been able to convey the blessings we have received from our Father and our fathers."
Crandall Creek releases new album
Farther down the road to recovery
Crandall Creek releases The Bean Song
Update on health, band members
Crandall Creek helps those fighting COVID-19